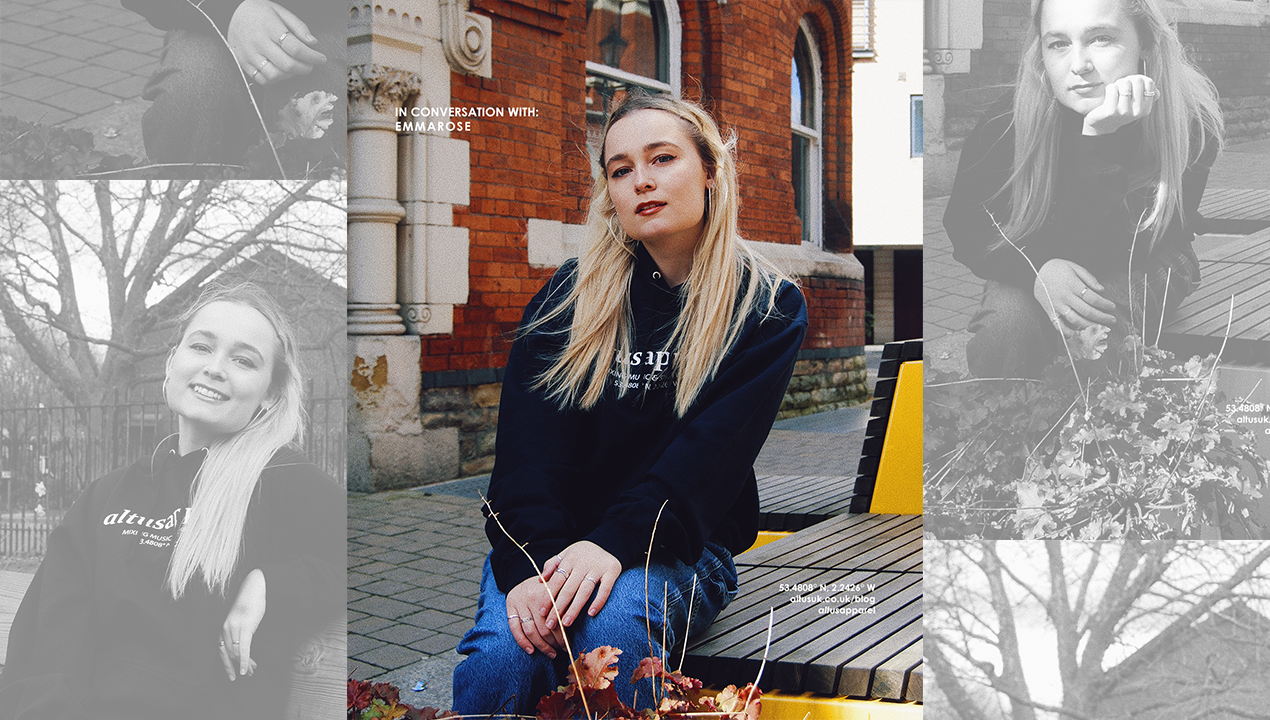 For the third instalment of the 'In Conversation With' series, we chat to just one of a growing number of females in the North of England & beyond who are making serious waves in the underground music scene.
We move into the realm of hip-hop, grime, dub & afrobeats with Emma Rose - a DJ & radio presenter who has put her name on the map in Manchester, with a list of events, residencies & radio slots to boast.
At the very least, Emma Rose has already asserted herself as one-to-watch, gaining momentum throughout lockdown via slots on Pie Radio & guest mixes for the likes of Do As You Please, STEAM Radio & more.
Emma explains how this all started: "I got into radio spending my summers in Bristol. Ujima Radio is where it started for me - they were & still are super supportive of everything I do. The incredible lady & all-time G, Ms Divine trained me up, guided me & was the first person who believed in me - giving me that confidence the radio presenting & DJing was a possible career path."
She added: "My dad is really into music & played a wide variety of stuff when I was growing up - I was surrounded by a lot of reggae & soul. Peter Tosh & Bob Marley were played a lot in my house. Then I got into raving when I was about 17 - I was a massive jungle-head going to raves in Bristol & different festivals - I guess the reggae influence explains my attraction to jungle. From there I explored different bass music genres."
The North West is fast becoming a hotbed for creative culture, music & fashion. For a long time the North was thought of as a diluted version of London's creative metropolis. Given the talent on show now in Manchester alone, we believe this is changing.
Emma Rose agreed & gave us her thoughts on some of the hottest artists coming out of the North West's hip-hop scene: "The scene right now is popping. It's as strong as ever & is a definite rival to London. There are loads of artists bubbling in the underground right now - 2021 is gonna be a really exciting year.
"I'm gonna have to give Motto Estate a shout out. They're a hip-hop collective of nine, really shaping the scene right now.

"Ace Cxbain - his flow is hard, great voice, he has & is gonna be making moves this year. Crystal Millz of course! Her tone is different & her bars are hard. Abnormal Sleepz, [ K S R ], Akemi Fox, Kahreign, Sutty & Tobi Sunmola - all of these are others that I've always digged."
Just a day or two ago marked an entire year of lockdown. Manchester was hit hard by this, being one of the biggest cities in the UK to spend the most amount of time in Tier 3 restrictions. This was difficult for many, especially those who ply their trade in creative industries.
Emma Rose gave us her thoughts: "Like everyone else, it's been super tough. I've had to deal with a few personal issues, but I've been blessed with Pie Radio & all the incredible people who are a fantastic support team. If it wasn't for Pie Radio I don't know where I'd be now."
With reality slowly but surely returning, there are a few things in the works for Emma, including an event planned to make an appearance in Manchester's Northern Quarter.
Emma said: "I'll be posting out on my socials in the next few months. One thing I can say though is I'm hosting Origin - a night showcasing Manchester talent. I can't reveal too much but just know the lineup is frickin' crazy. It's launching July 1st & is on every Thursday at Off The Square in Northern Quarter."
She added: "I wanna try & get a residency on top of the one I have at Origin. I also wanna play more chill sets at bars & clubs. Expect loads of live sets, more presenting & maybe even a new event."
A lot to look forward to where Emma Rose is concerned. Keep an eye on this one.

Emma has also selected a playlist of tracks, adding an hour of rap, hip-hop & reggae to our Spotify collection. This includes releases from the likes of Ard Adz, Drake, Akemi Fox & more of the hotshots coming out of the North West. Listen here.
Welcome to the family, Emma.
Emma Rose: HIP-HOP FOUNDATION FM MIX
Emma Rose: KEEPIN' IT GRIMEY
Emma Rose: DYNAMIX 004

Archive:

February '21: In conversation with JPA
February '21: In conversation with Antoine Kiim
March '21: ALTUS APPAREL - the story so far
March '21: In conversation with Emma Rose